Introducing
Fermyon Serverless AI
Powered by Serverless WebAssembly, Fermyon now offers Fermyon Serverless AI, with 51ms cold start times — over 100x faster than other on-demand AI infrastructure services.
Build, run, and deploy your Serverless App fast
Simplify the developers' experience to run inferencing on similar language models on your machine and enable them to run Serverless apps anywhere Spin runs!
Try it for yourself
Go from blinking cursor to deployed LLM workloads in 66 seconds.
Request Access
Explore more use cases on Spin Up Hub
Unsure of the examples and sample apps for you to explore and play around with Fermyon Serverless AI?
Check out the Spin Up Hub, the central repository for examples, samples, plugins, and more!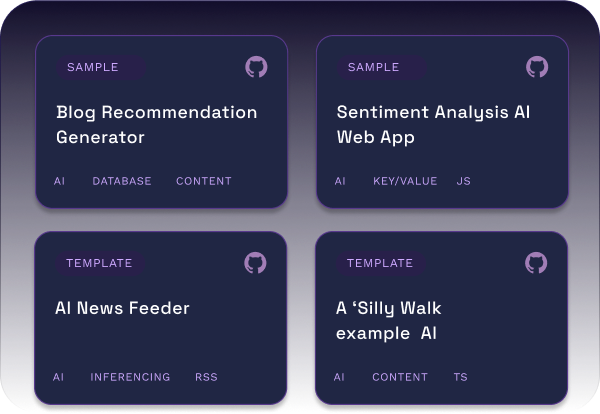 Enterprises wishing to build AI applications that go beyond simple chat services face a largely insurmountable dilemma – it's either cost prohibitive or it's abysmally slow and, therefore, often abandon plans to build AI apps. Fermyon has used its core WebAssembly-based cloud compute platform to run fast AI inferencing workloads"
— Roy Illsley, Analyst at Omdia

Fermyon Serverless AI
Join our private preview and get started deploying LLM workloads and AI apps.