Deploy & manage cloud native WebAssembly apps
Run cloud applications quickly and efficiently with Fermyon Cloud.
Cloud makes the most of WebAssembly's speed, security, and cross-platform support
Developers can deploy applications and instantly have a secure publicly available deployment.
With the dashboard, see what's running, examine the logs, and monitor their application over time.
Build your app
With Fermyon Spin, you can create, build, and locally test your app in just three commands.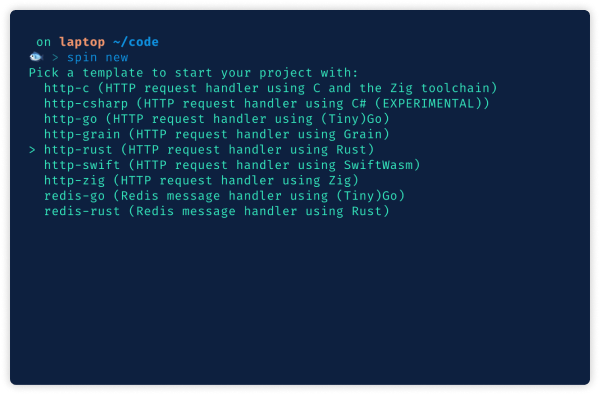 Deploy to the cloud
Ready to see your application live? Deploy it to Fermyon Cloud and you'll get a publicly available deployment. All you need is a GitHub account.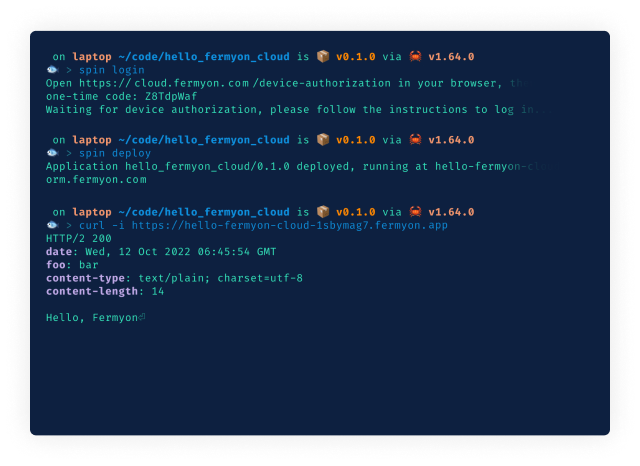 Check app and logs in the portal
Log into the Fermyon Dashboard to view all your apps, check on logs, and see status. It's all free!
Features
WebAssembly
Run event driven Wasm microservices and web applications
Secure by default
Every Wasm application runs in a secure sandbox
Auto scale-to-zero
Eliminate security contamination between microservice components
No cold start-up time
Experience micro-second cold-start times and scale-to-zero
No infra management
Eliminate platform configuration problems and issues
Be a part of the next wave of cloud computing
Projects
Spin is the tool for developing serverless WebAssembly apps
Compose serverless applications using WebAssembly, and quickly deploy to Fermyon Cloud.
A micro-CMS for WebAssembly and Spin
Compiled to WebAssembly, Bartholomew can run in any Spin environment.