KubeCon Amsterdam 2023 Roundup
There's no place we would rather be in April 2023 than Amsterdam. Tulips in full bloom. Long spring days and mild weather. And everywhere the sights and sounds of… KubeCon.
Cloud Native Wasm Day
For us, the highlight of each KubeCon is Cloud Native Wasm Day. This one-day event focuses on applying WebAssembly to various problems within the Cloud Native ecosystem.
Till Schneidereit focused his keynote on new opportunities to improve software, and how we should keep those opportunities from going untapped; Till's keynote showed that the Component Model is a great answer to some of the most critical problems in modern software development and how the Component Model provides exciting new opportunities.
Later in the day, Kate Goldenring and Joel Dice gave a presentation on how an application can "scale-to-zero"; with instances only running when needed and why Wasm is ideal for serverless computing (slides available here).
Docker + Fermyon = Party
After Cloud Native Wasm Day, Docker and Fermyon co-hosted an evening of socializing. It was a great chance to catch up with old friends, meet new ones, and enjoy a lovely Amsterdam evening.
KubeCon Workshop with Microsoft
Together with Microsoft, Radu Matei and the Fermyon group led a Hands-on with WebAssembly Microservices and Kubernetes workshop (slides available here) on Wednesday. Almost 350 attendees walked through creating a new WebAssembly application with Spin and deploying it to AKS, Docker Desktop, or Fermyon Cloud.
I am still blown away by the interest we saw at #KubeCon for our workshop on @spinframework on #Kubernetes, together with the awesome @deislabs folks!#WebAssembly was a really hot topic at #KubeCon! pic.twitter.com/4ZxP192fzM

— Radu Matei (@matei_radu) April 26, 2023
Matt Butcher and Justin Cormack on The CUBE
Justin Cormack (CTO of Docker) and Matt Butcher (CEO of Fermyon) joined The CUBE's John Furrier and Savanah Peterson to chat about the future of WebAssembly. Joined by Sanjeev Mohan of SanjMo, they changed topics and discussed current cloud trends and how they may evolve over time.
Fermyon on the Show Floor
Along with Finicky Whiskers, Fermyon brought new sticker books, and limited edition tie-dyed Spin shirts. Karen Chu and Matt Butcher put together a silly little video about sticker books:
Introducing our newest book ~ we made sticker books for you all to collect & keep your stickers throughout #KubeCon! Keep your stickers in one central place or trade w/ friends! We have a limited supply so come visit the Fermyon (S90 in Daisy Zone) & ask for a sticker book ✨ pic.twitter.com/SfBCmCxxdp

— Fermyon (@fermyontech) April 19, 2023
The Fermyon booth is always a great place to reconnect with friends and meet new folks interested in exploring the WebAssembly ecosystem with us. If you happen to be at Open Source Summit in Vancouver this May, we might have a few of those sticker books available.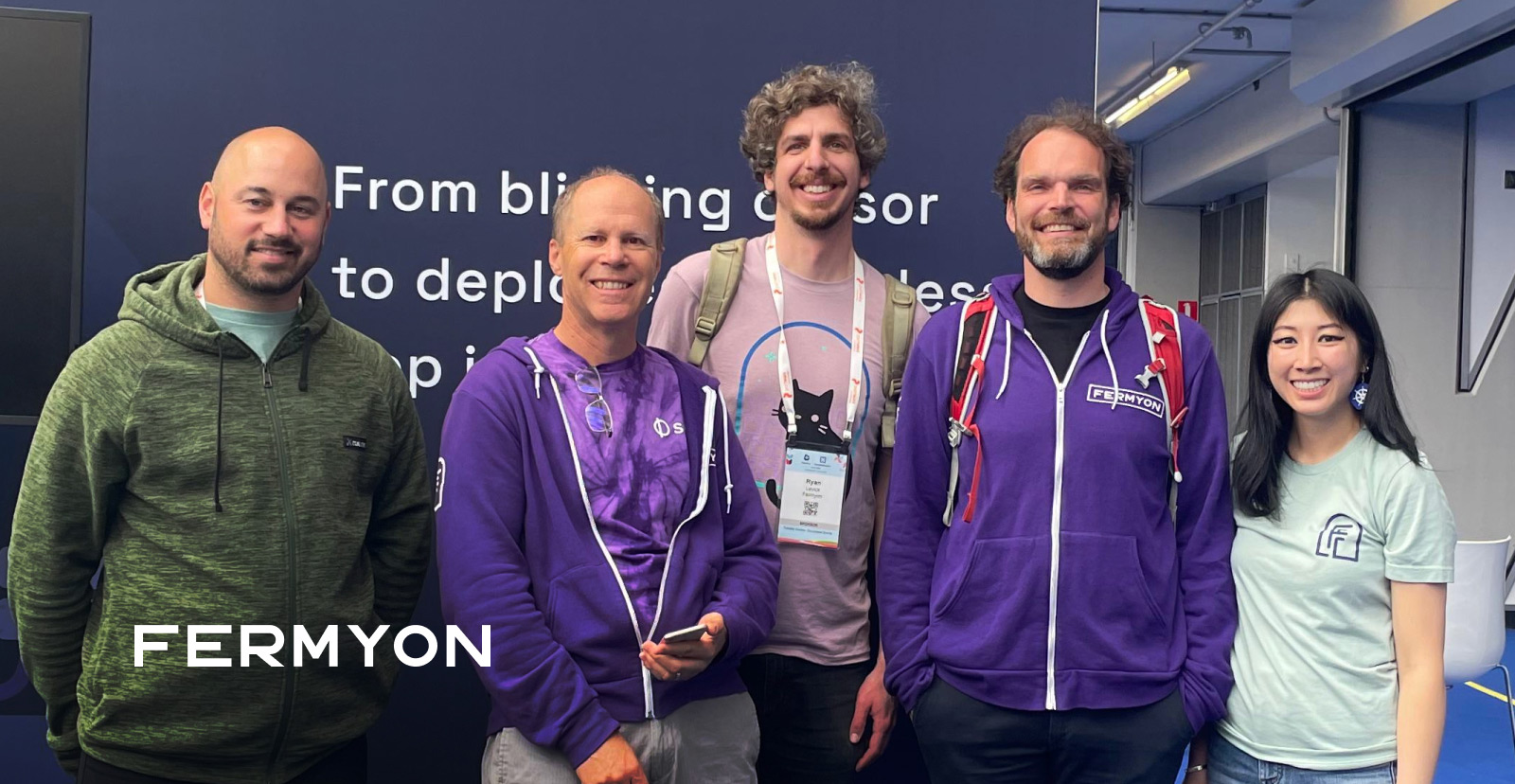 So Long, and Thanks for All the ~Fish~ Stroopwafel
Sold out at 10,000 attendees, this KubeCon was vibrant. Amsterdam is an amazing host city, and we at Fermyon certainly enjoyed the hospitality.
We're looking forward to some big events over the next few months:
Additionally, we are looking for a great opportunity to visit Asia later this year. So if you know of an event that might welcome some WebAssembly, let us know in Discord.