Chinchilla Squeaks Podcast Ft. Matt Butcher
This blog post outlines a conversation, in an interview, where Matt Butcher walks through his experience of the evolution of cloud computing. The narrative is bountiful in knowledge thanks to Matt's vast experiences and involvement with many open-source software products and projects over the years.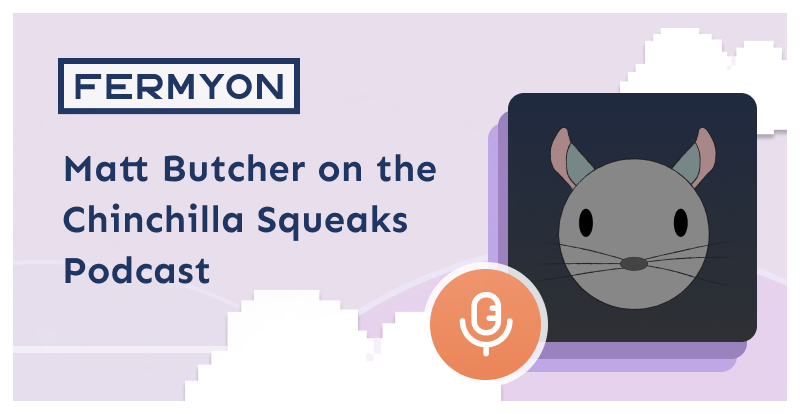 Chris Chinchilla recently talked with our very own Matt Butcher about software development, cloud computing, WebAssembly and where Fermyon is taking this technology. At the 18:25 mark of this particular episode of the weekly Chinchilla Squeaks Podcast, Matt and Chris kicked off their conversation by remembering the very early days of developing open-source software and how the technology stack has changed over the years.
Initially, one of the many benefits of the introduction of Virtual Machines (VMs) was that VMs allowed computing to be performed in the cloud. From that point, containers further upended traditional assumptions about the relationships between hardware and software. Before either of these technologies came about, there was largely a 1:1 relationship between an operating system and the hardware it ran on. We can essentially think of VMs and containers as the first and second waves of cloud computing, respectively.
No stranger to VMs, containers and cloud computing, Matt goes on to discuss, with Chris, the finer details associated with implementing all of these technologies. Matt reminisces about creating The Illustrated Children's Guide to Kubernetes which was born out of a necessity to briefly and succinctly explain container technology and orchestration to an audience.
Excited about building the third wave of cloud computing, Matt discusses how the introduction of WebAssembly (Wasm) can complement all of these existing technologies. The ongoing approach being taken is to re-think the problem space and build products that get the most out of these new technologies. Whilst listening to developers Fermyon is creating great products. For example, amongst many other things, a frictionless WebAssembly platform for writing microservices and web apps. We hope you enjoy the podcast.
Please get in touch if you are interested in finding out more about anything that was discussed.
Fermyon Contact Details
Here are some other ways to stay updated and keep in touch.
Discord: We have a great Discord presence. Please join us in Discord and ask questions and share your experiences with Fermyon products like Spin.

Twitter: Following and subscribing to our Twitter is a great way to keep in touch.
GitHub: We can be reached via GitHub.
Email: Please feel free to Email us.
Become an Insider
If you would like to "Become an Insider", please fill out this brief form to get early access, deeper insights and other insider invitations.
We Are Hiring
We have several job openings available in areas of training, software engineering, developer relations, community management and more.